Recently, Sutton Planning President Liz Sutton visited
 

Montréal

 

and said it was "phenomenal!"

Liz went to Montréal for Virtuoso Symposium. Virtuoso is an exclusive network offering access to the best travel partners and resources in the industry. As one of the top luxury travel companies in the world, Virtuoso is highly respected and selective. At Sutton Planning, this means that being a part of Virtuoso grants us benefits, amenities, and offerings that we can then provide to our clients. These are one-of-a-kind opportunities that aren't available on the internet. Partnering with a Virtuoso provider ensures that you are traveling with the best companies out there that have been fully vetted. This symposium itself was a gathering of some of the best business minds across the globe. It combined meetings, networking, and cultural experience.

While in Montréal, Liz not only attended Virtuoso Symposium, she totally immersed herself in the city's culture and cuisine. Montréal is a slice of Europe, an international feel at a great value close to home. The blend of historic and modern architecture and cobbled streets give this city a unique charm. Montréal has a wide and diverse variety of dining experiences, each one as exceptional as the last.

The best time to visit the city is during the spring, summer, or fall. However, no matter when you choose to visit Montréal, there is an abundance of attractions waiting to be encountered, including walking tours, foodie tours, biking, skiing, and Cirque du Soleil. There is truly an experience that will appeal to everyone!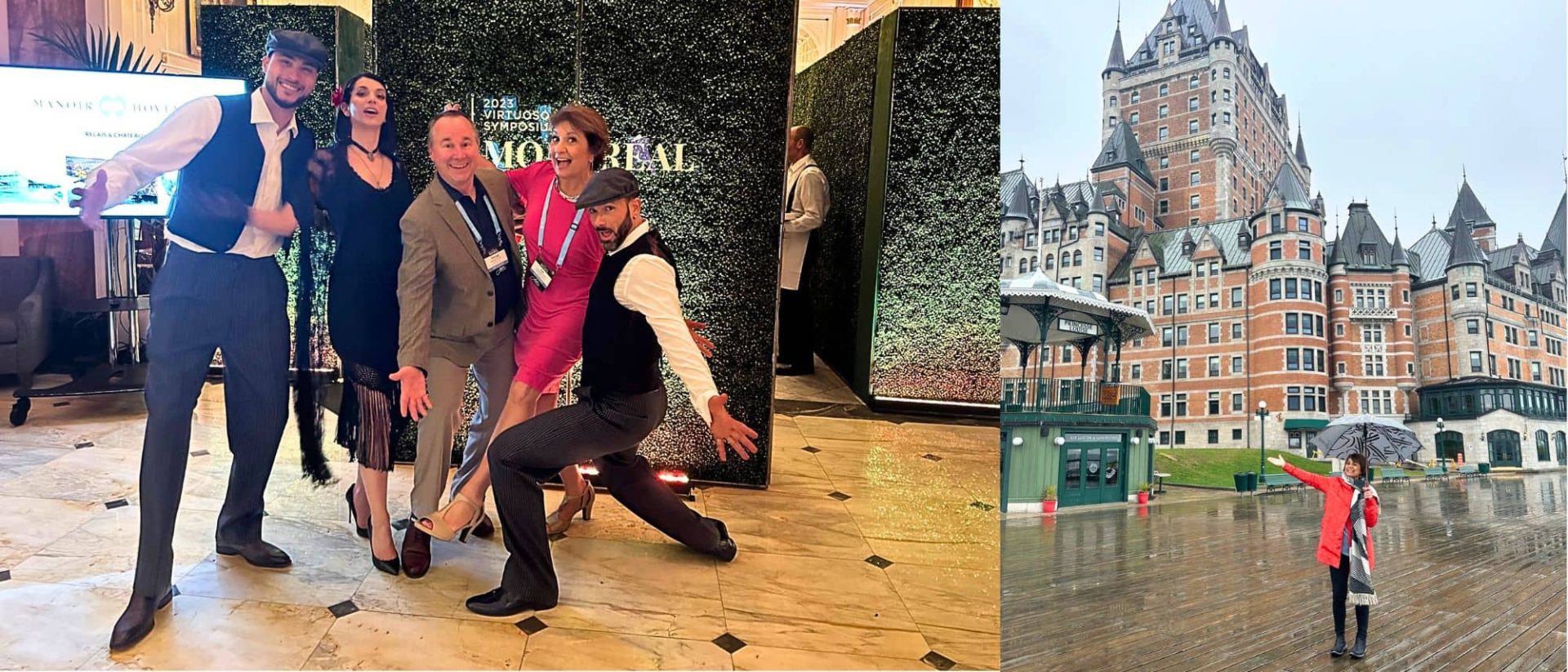 As if Montréal is not exciting enough, Québec City is just a three-hour train ride away. Québec City is another lovely city with its own unique, French charm. It's also home to Château Frontenac, one of the most photographed hotels in the world. Québec City's proximity to Montréal makes this a great place for a pre or post incentive trip.
Montréal is a lovely destination for meetings, incentives, and leisure travel. As far as incentives go, Montréal, unfortunately, rarely makes the bucket list. In a way, this is part of what makes this city so exciting. Liz says, "Sometimes if you pick a destination that everybody's been to, or that they can do on their own, or are likely to do on their own, they may not work hard for the incentive because it's not a very appealing destination. Montréal is an appealing destination. And not many people have been there."
For those looking for a highly exciting and unique travel experience, look no further than Montréal! Contact our team for more details regarding incentive travel or destination meetings to Montréal!